Menu bar
The Menu bar is the main navigation tool from the web page and is displayed at the top of all pages following sign-in. The specific menus displayed will vary depending on the user permissions. The menu bar also contains the Log Off button to end your session.

Currently, the full list of menus is described further below and are:
Live - Main screen where alerts, check-ins and assets are displayed
Check-ins - Screen which shows checked-in users for geo-targeted messaging
History - Allows operators to analyse and report on historical events
Notify - Screen where operators can send mass or targeted communications
Tips - Shows non-urgent tips/reports which have been sent into the system
Admin - Allows system administrators to configure settings, add users and generate notification templates
Live Screen
The Live Screen provides you with an overview of the current status of alerts and up to date information on the position of responders, assets and other checked-in users. Selecting an icon on screen, or in the alert and user list, brings up further information on that item.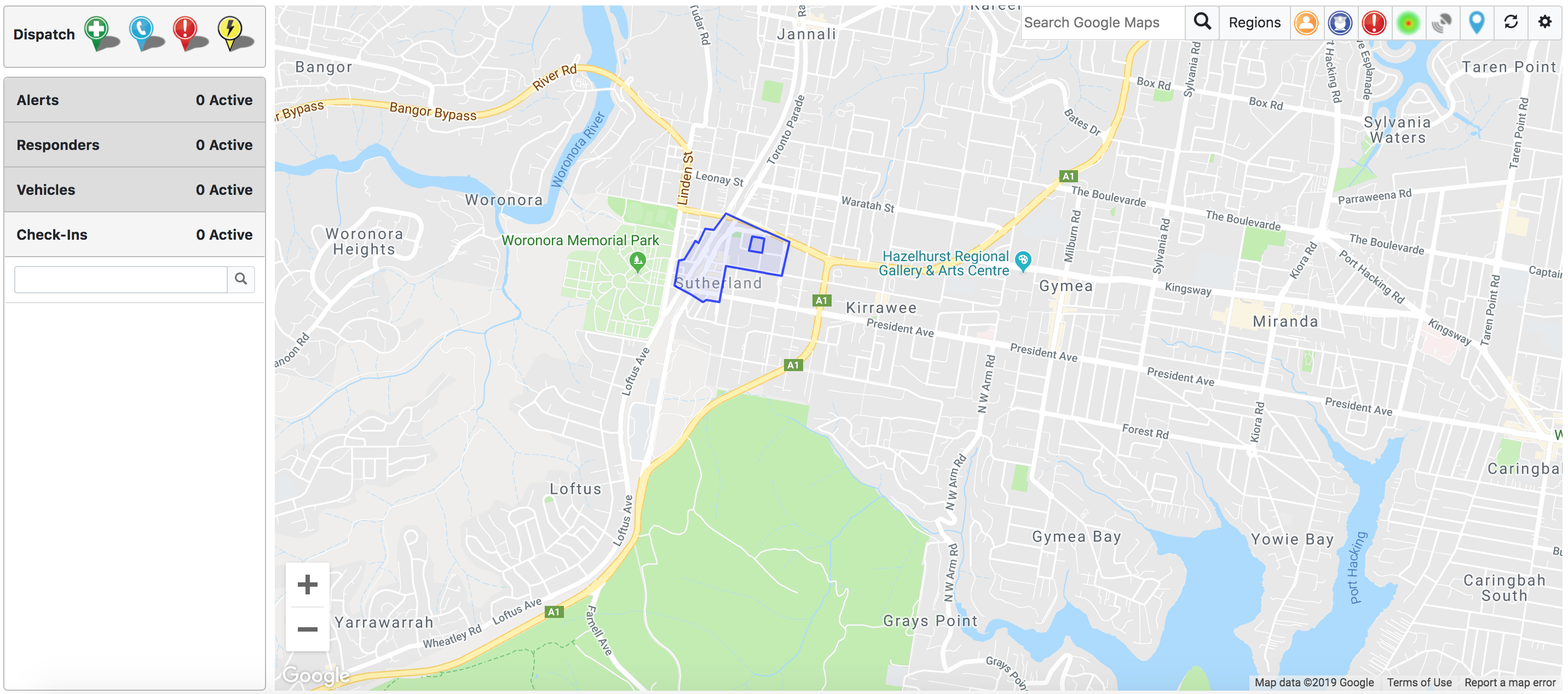 The specific view will vary depending on your permissions and system configuration however the key areas are:
A dispatch box at the top left of the window, where alerts can be raised from the Command software by dragging and dropping the appropriate icon onto the map.

An alerts and user list on the left of the screen showing current events or people who have shared their locations (e.g. Responders, Buses, Checked-in lone workers)
A Map in the main screen which contains

Zoom keys
Floor selection tool (for systems with Bluetooth indoor location only)

A toolbar in the top right of the screen which contains 

Region Selection button which shows a list of regions in your system (where selecting one will fly the map to that area)
Group filter button which can hide certain user types to simplify the display (e.g. only showing responders and fire wardens in a fire incident)
A search bar to bring up a Google search box to find locations on the map. This also accepts comma separated GPS co-ordinates

The ability to hide and display

Checked-in users  
Responders (OmniGuard App users) 
Alerts 
Live Heatmaps (of recent responders' movements) 
A view selection button to swap between satellite and map displays 
A Show/Hide Map features button to enable/disable labelling of map features such as businesses, terrain, landmarks etc 
A refresh button, which updates the locations of all users 
A settings screen which provides additional filtering tools and heatmap configuration