Once you have viewed the alert on Command, you can then acknowledge the alert which lets the SafeZone user know that someone has seen the alert and will respond.
Messaging and Chat
There are several ways to communicate with a user once an alert has been raised:
Push Messaging
If your site does not have Two Way Messaging set up, you will see the Messaging window appear which allows you to send a Push message to the user. Push messaging is also available to send to users who are checked-in to SafeZone.
To send the user a Push message, enter in the text into the text field and click on Send.

The SafeZone user will see the push notification appear on their device but will not be able to respond to it.
Two Way Messaging
To set up Two Way Messaging, please see the guide for Global Settings - Two Way Messaging Settings
If your site does have Two Way Messaging set up, you will see the Chat window appear at the bottom of the alert details section.
This will allow you to securely message the SafeZone user through the app. This is handy for situations where the user may not be able to talk as they are in a risky situation or for users who are hearing/speech impaired.
Once Two Way Messaging is set up, the SafeZone user and users in Command and OmniGuard can engage in a secure chat.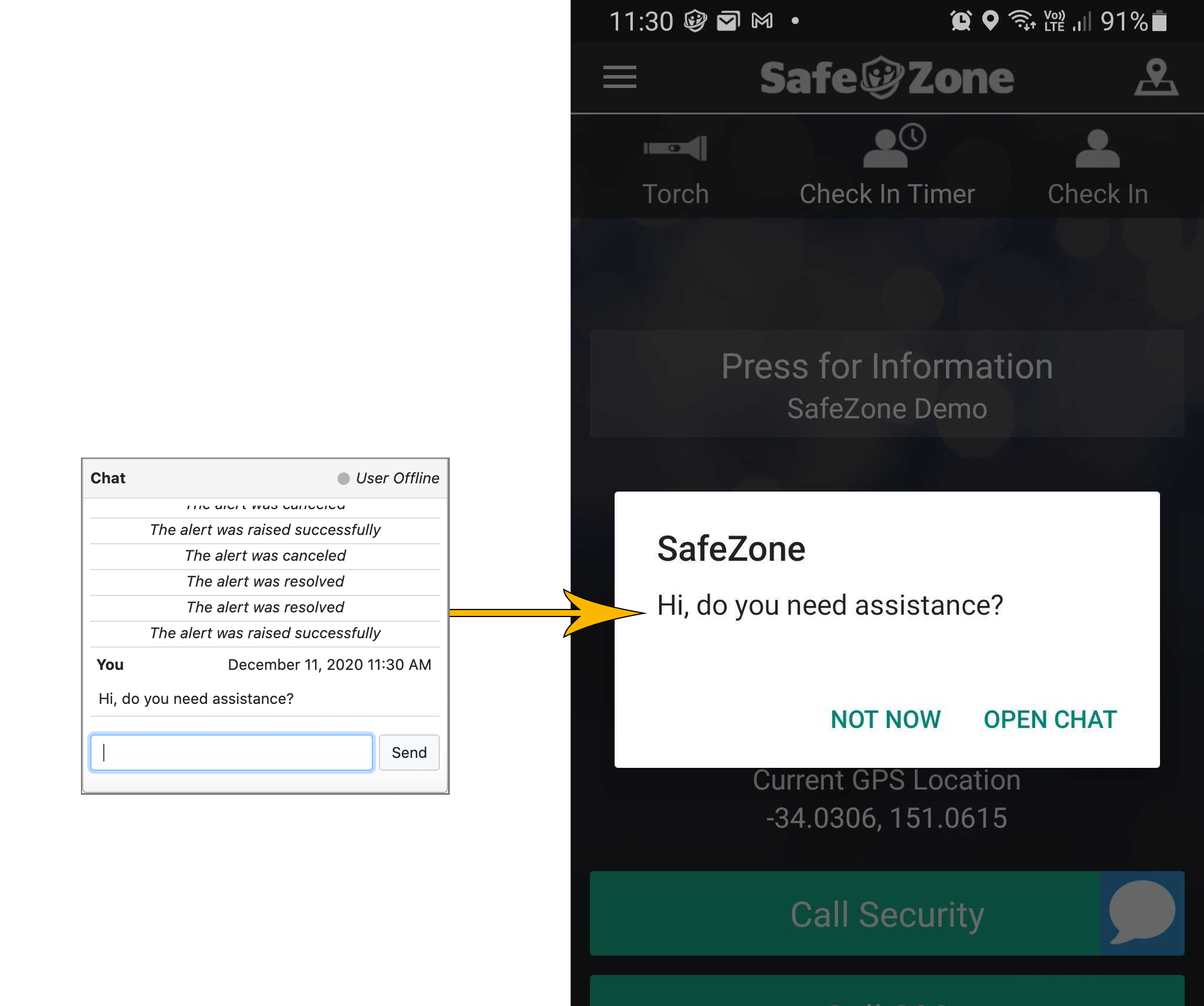 The SafeZone user can tap on the chat button to start the Two Way chat on their end.
In Command, the chat conversation, any photos and any alert updates will appear. Multiple users can chat with the end-user to assist with their issue.
If a situation requires a control room operator and a responder on OmniGuard (or even multiple responders on OmniGuard) all those users are able to chat with the end-user to provide assistance.
To send a message in Command, type the message into the text box and click on Send.
Users can continue to use the chat feature until the alert has been resolved.
Click-to-call
If the computer you are using Command on has software that can dial phone numbers (eg VoIP system, Skype, Facetime, Messenger etc) you can click on the user's phone number in their Alert details window to start a phone call.