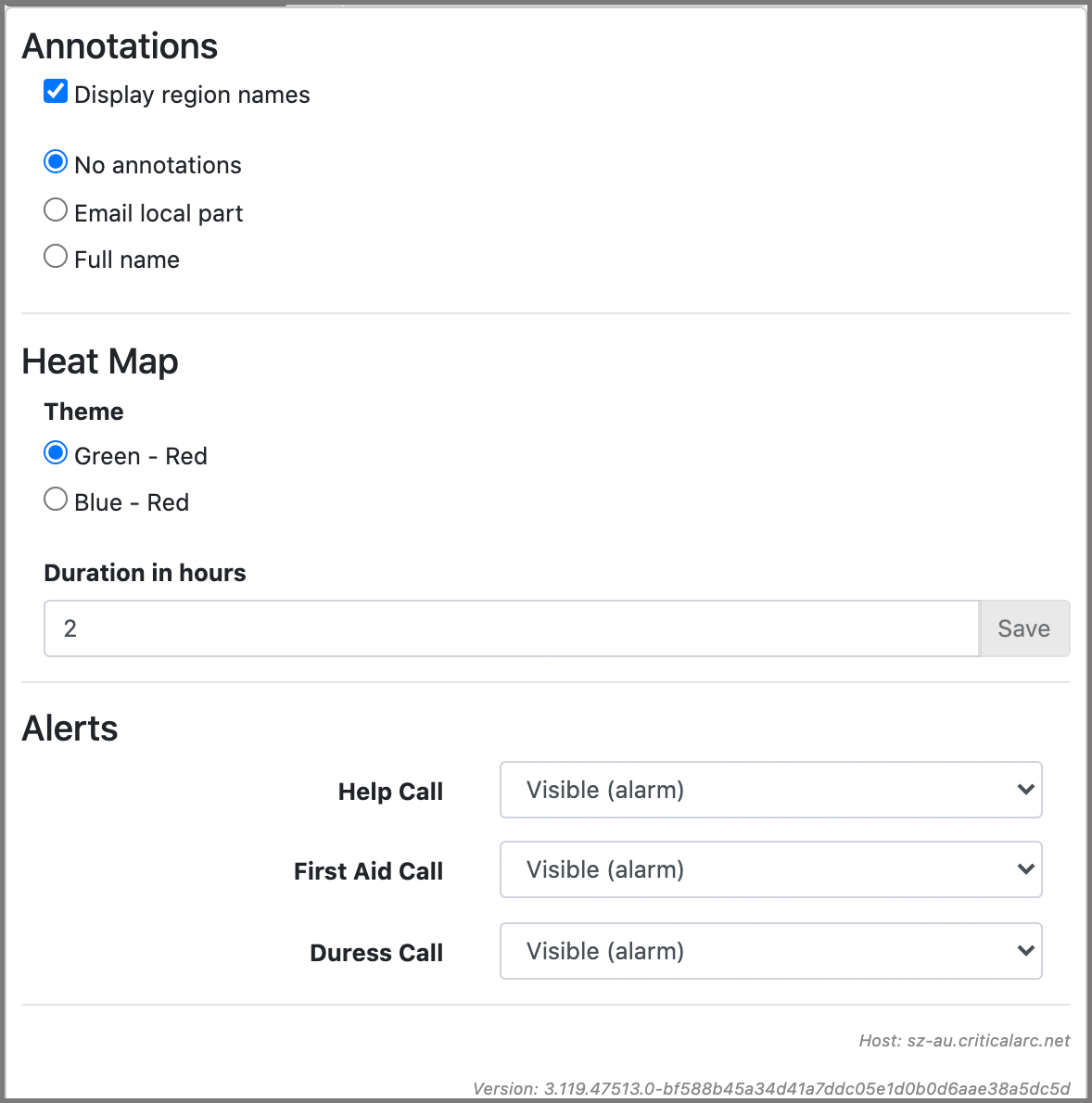 The Live Screen settings menu allows you to customise the view you see in Command on the machine you are sitting on - if you use a different computer the settings will revert to the default settings (as shown above) until you change them to match your settings on your previous computer.
To access the Settings menu, click on the Settings icon

in the Command Toolbar (found in the top-right of the screen)
The Settings menu is broken into three sections:
Annotations
The Annotations menu allows you to display the region name when clicking on a region. You can also show or hide the user's details which appear as a tag above their icon.
Be default, the region name tag is set to display when you click on a geofence on the Command Live Screen.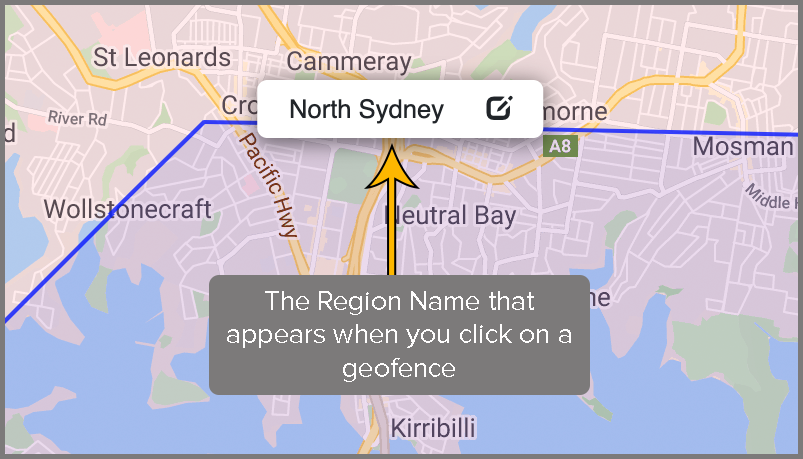 To disable this feature, untick the checkbox for "Display Region Names".
By default, the user annotations are not displayed. During an incident, it may be useful to know which check-in or alert belongs to which user to help co-ordinate your response with the first responders.
You can select the option to display:
No Annotations
Email local part - which is the first part of the email address before the "@"
Full name - which is the user's first and last name from their user profile. For instructions on how to edit a user's profile information, please see the guide on Editing a user's details

Heat Map
The heat map on the live screen displays a heat trail indicating where your OmniGuard responders have been patrolling on-site. Areas where responders have been patrolling lightly will be marked in green, areas of heavy patrolling will be marked in red and yellow in between.
Theme
By default, the theme for the heat map is set to Green - Red. If your campus is surrounded by a lot of vegetation, it may be useful to change this to Blue - Red - this will make the lightly patrolled areas to stand out against the green backdrop of vegetation.
Duration
By default, the duration of the heat map is set to 2 hours. This will display responder movements for the past 2 hours. The maximum duration this can be set to is 24 hours.
Alerts
The Alerts setting allows you to control the behaviour of alerts in Command. Alerts can be set to be visible, silent or hidden. This may be necessary if your organisation has a control room with multiple workstations - you may wish to only have the alert sounds coming from the main computer and monitor.
The settings you can choose from are:
Visible (alarm) - this default setting will raise the alert on the live map and play an alarm sound
Visible (silent) - this setting will raise the alert only and no alarm sound will play
Hidden - the alert will not be displayed on the live map and an alarm sound will not play
Any changes to the alert settings from Visible (alarm) will display a warning banner underneath the Command toolbar (the screenshot below is for illustration purposes)

Tip: Did you know it is possible to configure the behaviour of the alert buttons in SafeZone to raise alerts or call a number? For instructions on how to set up the behaviour of the alert buttons, please see the guide on Global Settings - Help, First Aid and Duress Alert Settings
Tip: Did you know that it is also possible to configure the behaviour of the alert buttons when the SafeZone user steps into a region that is grouped into a Region Group? For instructions on how to set up the behaviour of the alert buttons, please see the guide on Region Groups - Help, First Aid and Duress Call Settings