For organisations using SafeZone with HPE Aruba's Meridian positioning system, an API key and token are required to get the enhanced indoor positioning accuracy.
To view the Meridian Feature Settings, click on Admin -> Zone Configuration -> Global Settings -> Aruba Meridian Settings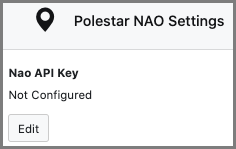 To configure the Meridian Feature Settings:
Click on Edit to edit the settings

The Meridian API Key is the location ID from Meridianapps.com.
If you require assistance with locating your Meridian API Key, please speak to your Criticalarc Customer Success Manager or Criticalarc Support.
The Meridian API Token is a read/write token generated for that location.

Click

Save Changes

to save and close the editor menu, otherwise click on

Discard Changes to discard.