When using SafeZone with Polestar BLE beacons, an API key is required to activate the Beacons in SafeZone and get the enhanced indoor positioning accuracy. The API key can be entered in the Polestar NAO Settings.
To view the Polestar NAO Settings, click on Admin -> Zone Configuration -> Global Settings -> Polestar NAO Settings
Important: This guide is for the global Polestar NAO settings. If you have multiple regions with different Polestar NAO settings, you can configure Polestar NAO settings for specific regions in your site by using the Regions - Editing a region guide.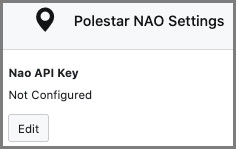 To configure the Polestar NAO Settings:
Click on Edit to edit the settings

Enter in the API key for your site from NAO Cloud.
The key can be obtained by logging into NAO Cloud, selecting the site, selecting "Developer" and "API Keys". If you don't have access to NAO Cloud, please contact your SafeZone engineer/support team.

Click

Save Changes to save your changes, otherwise click on Discard Changes to discard.