Criticalarc complies with GDPR regulations that are put in place in Europe. Organisations globally can now configure how long the system stores different types of information and can be customised based upon your organisation's policies.
To view the Data Retention settings, click Admin –> Zone Configuration –> Global Settings –> Data Retention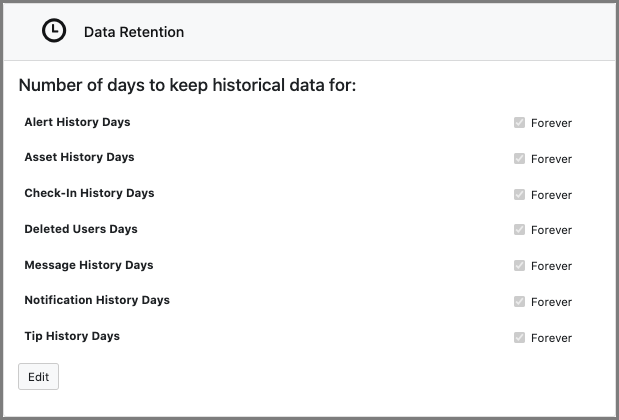 By default, all data is set to be stored forever.
To configure the data retention settings:
Click on Edit;


Uncheck the Forever tick box for each setting you would like to configure;

Type in the number of days you would like that type of data to be stored;

Click

Save Changes

to save and close the editor menu, otherwise click on

Discard Changes to discard.


If you have saved the settings, you will see a message to inform you that Command has successfully saved the settings.

Note: As per the screenshots in Steps 1 and 2, any changes made here will apply within 24 hours and be applied progressively depending on the volume of data to be removed.